Stationary Industrial Vacuums - T4000 Series
The DEMARCO® T4000 Series is the ultimate, high performance stationary industrial vacuum system available on the market. These industrial vacuums can pick up to 48 tons of material per hour, using hoses as large as 14" ID. Drive packages available in the T4000 Series range from 40 to 150+ HP.
As with the full line of DeMarco Stationary Industrial Vacuums, these units can operate continuously 24/7. Hoppers are available up to 70 cu. ft, or as required, along with a wide selection of discharge gate options.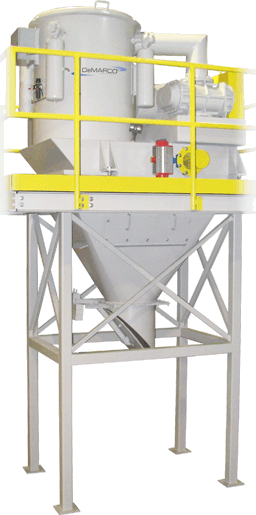 Product Specifications
40 HP to 150+ HP Drive Packages
480V/3PH/60HZ or as Required
27 Cubic Foot Bottom Dump Hopper or as Required
Vacuum up to 48 Tons Per Hour
Powerful Positive Displacement Blowers up to 27" Hg (Mercury)
Up to 3410+ CFM
Continuous 24/7 Operation
High Efficiency DEMARCO® MAXcartridge™ Filters for Continuous Uninterrupted Vacuuming
4" to 14" Material Inlet Port with Patented DEMARCO® Offset Cyclone Tangential Separator. Abrasion Resistant
Wet/ Dry Vacuuming
Patented DEMARCO® Silencer Base® for Quiet Operation Starting at 85 dBa
This Industrial Vacuum can be used as a Central Vacuum with Manifold System
Product Options
Grade Mounted Drive Packages
Partial or Full Service Platform with Ladder and Safety Railing
Direct Drum Loader or Bulk Sack Loader
Vibra-Jet Package to Prevent Material Bridging
Explosion Proof
Secondary HEPA Filter
PLC Digital Touch Screen Control Panel
Stainless Steel Construction
Custom Designed Manifold Turnkey Installed